Craig Anderton "Bi-Filter Follower/Compressor" (10/'03)
Using Silonex NSL32-SR3 Photocells
Craig's Bi-Filter circuit consists of a pair of bandpass filters optically driven by an envelope follower circuit ... that is, a parallel combination of hi-band and lo-band filters moving up and down in response to input signal envelope ...
Experimenters will recognize your classic photo-cell based voltage divider as part of th input topology of the filters - that is, R14 = 47k sets the input current to the filter but it also acts as a voltage devider in conjunction with the photocell resistor - typical of photocell-based limiter circuits (LA-2A, etc.) ... as the photocell resistance drops with increasing envelope light not only does the cutoff signal of the filter move up in frequency but it also cuts the amplitude of the input signal going into the filter - hence the limiting effect ... a filter with built-in compression, and Craig kept that hidden from us all this time (!) ... I find this dynamic comonent quite appealing since it will tend to attenuate the filter output when it emphasizes high frequencies, which can be annoying when too prominent ...
My first deviation from Mark's Mods of this circuit was to combine R3 and R4 (1k) into a single 2.5k linear pot to make variable the mix of hi/lo filter components ... the whispery sounding Phase Filter mod is most interesting - subtle, kinda Floyd-ish ... but after a while I found the effect too subtle and decided to scrap that and stick the two filters in series in order to double the amount of phase shifts - I still kept the high/low switch on the second filter ... since Mark had wired in two feedthrough amplifiers, one in phase and the other out, his trick still works but with the switches running backwards from before and the phase-filter effect quite a bit more pronounced ...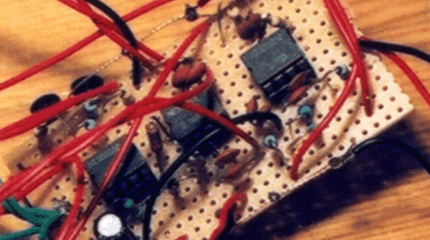 ---