\\\ Stereo-Vibe II ///
Sep27-06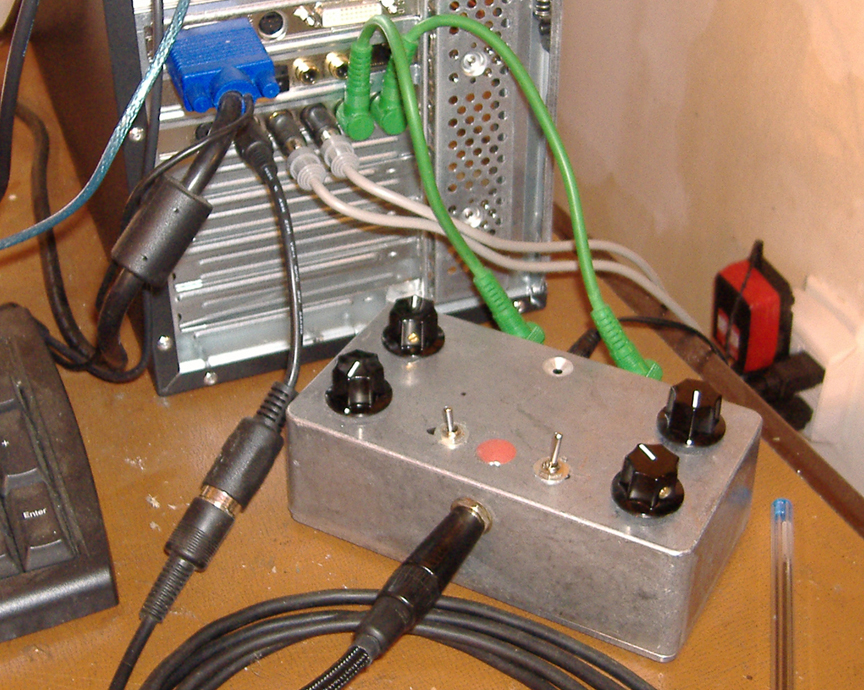 (c) 2006 JC Maillet
---
Second version ...
This time I'm using an original vari-shape constant-amplitude wide-range LFO - it does triangle, sine and squarish wave outputs (though somewhat limited in triangle mode) ... this versatile LFO is coupled to a balanced phase inverter circuit which drives two sets of complimentary linearized opto-converters ... the phasor sections are based on my Univibe'd "MXR Phase45" stages - this provides large amounts of headroom so the unit can be used with other high-output instruments with little to no distortion ...
---
What makes this stereo-vibe unit different than the first one I built is this: (i) the oscillator is not phase-shift based as in the original Univibe ... with a stock Univibe oscillator you get a slightly lop-sided sinewave output, while here the sine wave is perfectly symmetric and its amplitude stays constant with LFO frequency ... also, with a Univibe oscillator you lose "strength" at low and high speed extremes, not with a constant-sine oscillator ... hence you maintain effect depth at speed extremes, and the speed range is also much wider on this LFO ... (ii), the signal path is based on my Univibed MXR phase-45 stage emulator in that it produces analogous spectral effects but is dynamically much cleaner than stock Univibe phasor stages ... a few times in the clips I hit strong notes to emphasize this dynamic transparency ...
Aside from all this, the clips aim to emphasizes the sine-square LFO waveform impact and the Mono-Stereo nature of the effect on top of the Vibrato(leslie)/Phasor function ... FYI, the Intensity knob is set to max in all clips, so is the color knob which allows a certain range shift - hard to put into words - basically it can be used to adjust or reduce the "sucky" part of the cycle where the signal tends to die out ...
You'll notice how the vibrato clips are louder than the phasor ones - that's because I was lazy in my prototyping and didn't include attenuation on the vibrato outputs, normally they are level matched ...
MONO-mode Sound Clips
STEREO-mode Sound Clips
Test conditions: "Tribute" ASAT Classic Tele >> SV-2 >> EMU 1212 soundcard - of course it sounds a little different plugged into real amplifiers ... the clips are raw - there's no compression or verb ... Important test data: signal levels while picking lightly were measured at around -24dbv while noise coming out of unit with guitar plugged in and vol set to zero (input shorted) was around -65dbv, yielding a rough minimum signal-to-noise ratio of around 40dbv which is ok for normal level playing ...
---
---