* Amplifiers Owned by Rick Salt *
Recording and Sound Engineer at Pacific Island Studios Nanaimo, B.C. Canada

---

Pacific Island Studios - Modded Fender Amplifiers - Two different kinds of Sounds from late Fender Silverface Amplifiers -

---

... a mid-70's "Ultra-Linear" Fender Pro-Reverb amplifier ... ... modded using my Tweed Reverb preamp circuit with 50watt Marshall output stage and Traynor Tremolo circuit ...
From Left to Right the jacks and controls are : Normal Channel Jacks (Disabled), Reverb Level, Reverb Treb, Mid, Bass ... Reverb Channel Jacks - Main Inputs, Dry Tweed Level, Dry Tweed Treb, Mid, Bass, Reverb Dwell, Vibrato Speed and Intensity, Standard Master Volume ...
This is the first amplifier that I did for Rick in '99 ... Rick wanted something that would inspire him ... because I told him my playing went up a notch after I starting playing these '59 Bassman/Twin based circuits and he'd heard about how my amps sounded he requested I do his Pro Reverb, which had been modded before ...
Because his amplifier had an Ultra-linear output transformer which I thought was acting strangely, so without fussing we ordered a plain middle-of-the-road AB763 Pro replacement tranny from Fender which is fine ... the Power Supply is near-stock Fender (augmented with a filter cap on the bias feed) with light preamp filtering and low series resistance for high preamp headroom ... the output stage is from a 2xEL34 Marshall 50watt with Bias Modulating Tremolo from a Traynor ReverbMaster amplifier ...
... the preamp circuit consists of my Tweed Reverb preamp circuit where a stock 5F-A signal path is direct coupled to the standard reverb recovery amplifier (see my Fender page for details) ... Rick requested a Master Volume on this amp which is not really a bad idea ... the beauty of this circuit arrangement is that this circuit is still lively at low volume settings and it makes the guitar sound natural at all volume levels ... it's the same logic that made Marshall amps popular except, here, we're pairing El34's with a made-for-6L6 Output Tranny for added Harmonic Richness ...
---
... a late-70's Fender "Concert 40" amplifier ...
... modded into a 2xEL34 Marshall "model 1986" 50watt MkII / Fender Hybrid ...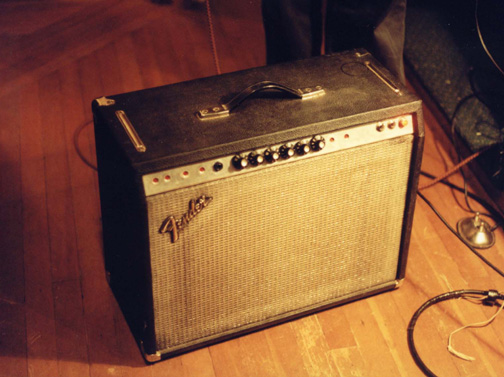 ... this amp originally came with Reverb, Vibrato and a host of pull-boost options for overdrive, etc ... last year Rick gave me this second amp to mod for him, he wanted a serious tone box, no frills, no effects, no master - a straight ahead, single-channel tone box ... the amp was at one time modded and then gutted by someone a long time ago so tis was a salvage job, by the time I got it the power tranny needed replacing but the output tranny seemed ok ...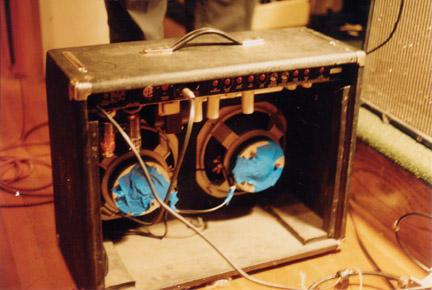 ... by applying EL34 tubes to a made-for-6L6 output tranny you can take advantage of the higher turns ratio to provide a tranny match that sounds sparklier ... it's subtle but it's there ...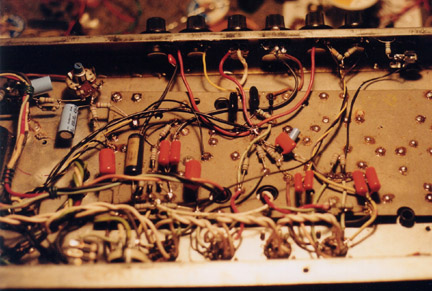 ... the signal path is based on a Normal/Bright channel mix of the Fender-Tweed 5F-A based "model 1986" Marshall 50watt circuit ... the front-end is hardwired the same way a multiple input amp would have a patch-chord linking both circuits... so the front panel has two volume controls, treb, mid, bass, Presence and no Master ...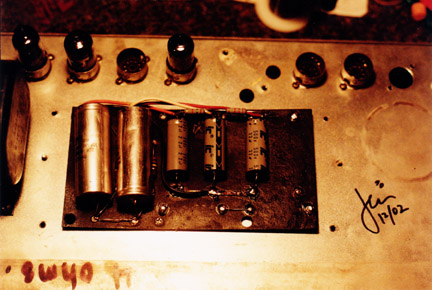 ... the power supply, is standard Fender throughout ... with 22uF/500v preamp filter caps and a higher than usual front-end headroom for a Marshall amp, the original 100uF-in-series B+ caps were kept the same ... so the amp is very lively, solid on the bottom end and with a clean preamp while still retaining some Fender smoothness ... this makes the amp very responsive to the touch without getting silly ... totally a hybrid amp that sounds a little different from the classics ...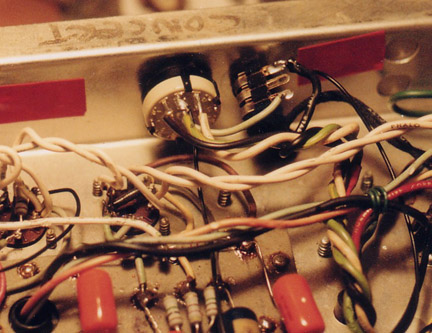 In its original state this Concert 40 amplifier had an unused output transformer impedance tap taped and tucked away inside the amp ... the external speaker jack now houses a 3-pos rotary switch which allows for the selection of three ratio settings, 2-4-8 or 4-8-16 ohm, on the fly ... actually, I'm not sure what they are and it doesn't really matter anyway ...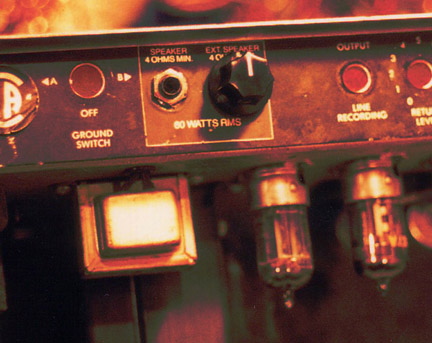 Because of the forgiving nature of tube circuits you can operate the amp in either position with 4-to-8 ohm speaker loads (the switch is side-pole shorted to avoid intermittend contact between the speaker and the OT) ... the only difference along with a slight power increase is the increase of distortion which is reflected by the impedance seen at the plates ... this is cool when recording with the same amp and selecting a tightness to the amp's output stage for rhythm tracks and looser and dirtier for lead tracks, or vice versa ...
---
viva Analog /// jc AT lynx DOT net