Traynor Amplifiers
* dedicated to Pete Traynor *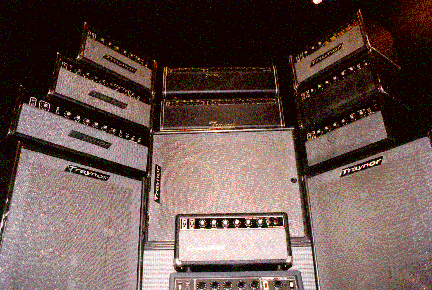 photo courtesy NJAM, Vancouver, BC
---
Traynor YBA-4 Amplifier
With a closed back 1x15" bottom this 2xEL34 powered Traynor YBA-4 has tons of definition and character, it's one of the less timid of the older Traynor tube amps ... it's my favorite stock Traynor ...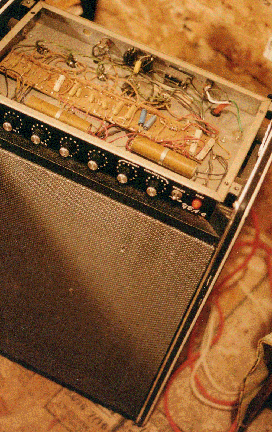 The YBA-4 has the same nice sounding A-1338 Output transformer used in Custom Reverb (YSR-1) but the YBA-4 has a much hotter circuit in front of it ... as with many other Traynor amps this amp sports modest levels of filtering in the power supply ... combining this with a more gainy signal path produces one of liveliest Traynor amps ever - and the 1x15 sealed bottom works very well to keep the sound focused ... it's Rory Gallagher in a box !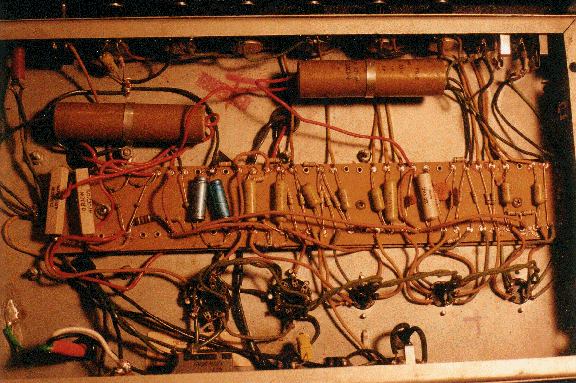 ---
---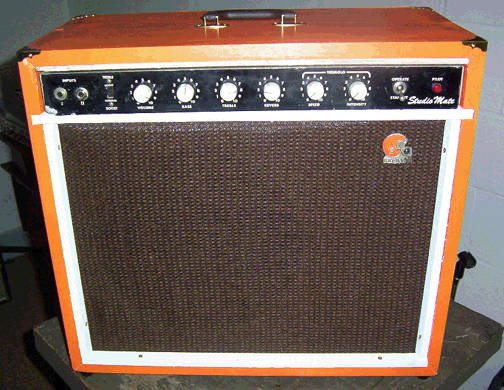 "Hi, Made this amp this past summer, but can`t find out much about the amp. Can you tell me what ohms it is? I think it originaly had 4- 8" speakers. It now has 1 -12" Mojo and sounds awesome. Any info would be greatly apppreciated. Thanks alot, Mike Martin"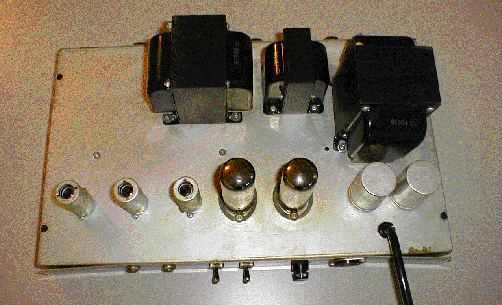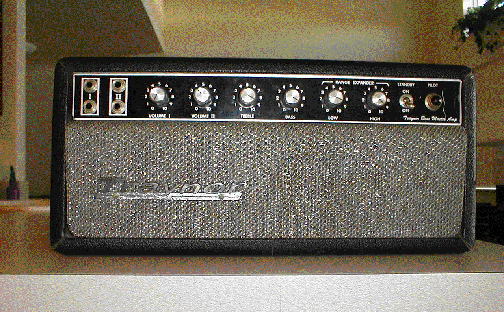 The latest date coded component in this amp is a wirewound resistor with a date code of 6912. Everything else is date coded in 68. You can see on the inside view that I installed a 10uF 450V Sprague NOS cap to final filter the B+ into the preamp section since the additional caps shown on the 66 schematic were not included in the 69 design. I also single channeled this guy and changed the common cathode resistor to a 1.5k NOS Allen-Bradley carbon comp. The single channel volume control is changed to a 1 megohm audio taper and instead of folding the pot terminal over and soldering the gnd connection to the pot case, I ran a red wire to a gnd point on the turret board. I also increased the amount of feedback in the output section by putting a 270k resistor in parallel with the stock 100k value to net a 73k resistance to tighten up the output stage a little bit. I also changed the "bright" cap from 0.001 to .0001uF to raise the knee of the treble boost curve from the stock 1.6kHz to 16kHz. I may go back and change this to 0.00047uF at some point. As mentioned previously, I did play with the resistor values in the RC circuit of the power supply. Stock values were 5k and 1k and I tried bringing the 5k down to 2.2k and 2.7k respectively but the amp wanted to regenerate badly at high gain settings, even 4.7k was marginal, so I left it stock. As a side note, the raw B+ into the preamp section is 380V measured and 420V measured into the ouput tube plates. Other than adding a good 3 prong ac cord and putting in a NOS matched pair of 1976 Amperex 6CA7's. It sounds realy good this way, the single channel mod made a huge improvement along with the volume pot change, everything else is just seasoning to taste! :-)
... Dave Bender, VP Engineering, Ohmite, USA
---
Traynor Amp Links
---
Traynor TALK
---
viva Analog /// jc -> lynx.net